This started with Michelle Bridges' Lentil Shepherd's Pie recipe: http://www.dailylife.com.au/health-and-fitness/dl-nutrition/michelle-bridges-lentil-shepherds-pie-20120704-21g7d.html and ended up with this. I've made some modifications, e.g. making it Vegan.
The biggest modification is in the cauliflower topping. Like the original I avoided putting mashed potato on the top. This greatly reduces the calorie content, dose low-GI something and a million other things that people try and sell you in food bar form. Basically: cauliflower is awesome, let's see what we can do with it.
This should be gluten free too…
This serves about 4 people.
Ingredients for the filling:
1/4 cup dried green lentils
1/4 cup dried red kidney beans
1 whole onion (small, peeled)
1 chopped onion
1 bay leaf (or 2, depending on size and your addiction to the awesomeness that is bay leaves)
1 large carrot, diced (I used a purple carrot, because, well, how awesome looking are they?)
1 zucchini, diced
1 capsicum, diced
1 garlic clove, crushed (I ended up using probably closer to 2.. but I like garlic)
400g can diced tomatoes
1tbsp oil (olive works, but Canola or similar should work fine too)
Ingredients: topping
1/2 head of cauliflower chopped/broken into florets (you can double this part of the recipe to have a nice side of the topping too.. which is rather yummy)
400g can of Butter beans, drained and rinsed
Up to 1/4 cup nutritional yeast.
Serve with: steamed broccoli and green beans
The original recipe also used mushrooms and didn't have the zucchini or capsicum. I didn't have mushrooms (I'd eaten them all) but I did have zucchini and capsicum, and they're yummy. So feel free to vary.
Method
You're going to need a saucepan. Put the dried lentlis and dried kidney beans in it with 2-3 cups of water. Add the whole onion and bay leaf, bring to the boil and simmer for 40+ minutes, until the lentils and kidney beans are tender. When done, if there is an excess of water, drain it. You'll want to have about 1/4 cup of liquid left in there. Remove the onion and bay leaf from the pot.
Pro tip: sprinkle a small amount of salt on the onion and eat it. Deny that it ever existed and enjoy your mid-cooking snack.
The original recipe used all lentils instead of half with kidney beans. I like red kidney beans. If you don't use red kidney beans and just use lentils, the simmering time is probably the original 40mins, while it took a bit longer for mine – maybe 50 (it's easy to tell. attempt to eat one of the kidney beans :)
At the same time, you want to grab the cauliflower and steam it for about 15 minutes. You want it to be very soft, you're going to be mashing it (so if it's not done at 15, wait a little longer).
Get a bowl that's good for mashing and put the cauliflower in it. Add the butter beans (you may want to zap them in a microwave for up to 1 minute to get them warmer and easier to mash). Mash the two together, adding the nutritional yeast and perhaps a small amount of salt. The nutritional yeast will give a cheese-like flavour without, well, being cheese. I added the nutritional yeast a bit gradually and tasted along the way to get it right. You'll know when you start to get close, as you'll start getting this kind of creamy cheesey cauliflower taste.
In a large frying pan, add some oil (about 1tbsp is fine) and cook the onion, carrot, zucchini and capsicum until they start to soften, stirring regularly (this could be ~10mins). Add the tomatoes, lentils and kidney beans, season with salt and black pepper to taste. Depending on how much liquid was left in your lentil and kidney bean pot, you may need to add a little. Transfer to an oven proof dish, topping with the cauliflower+butter bean mash.
If you like, sprinkle some bread crumbs (or those gluten free quinoa crumbs that Ogram sells) on the top, and bung it in a 180C oven for anywhere from 15-30 minutes to get things all warm, a bit golden and depending on how hungry you are :)
Plate it all up and you can end up with something like this (cell phone pic, with awful white balance, lighting and generally the worst photo I've ever taken):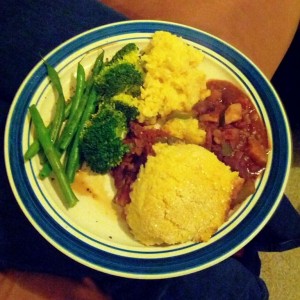 We really enjoyed this, and if you're looking for a good sized plate of food that checks in at (i think) around 400calories, there you go.